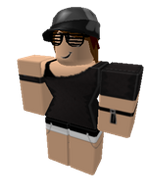 Who is Chrstina8787?
Christina is an popular ROBLOX User which joined in late 2008 and is the creator of "Club Christy"- a famous place which currently has over 200,000 visits. As she was often getting in trouble, ROBLOX decided to ban her account Theres isn't currently much information on the reason for the deletion of Chrstina but, rumours say that he was caught dating LordNathan (Now known as LordVade). She created a new account named "FizzyPops" and re-uploaded her club. A while after she did that, her club became famous again gathering 200,000 visits faster than her old club. There isn't a huge difference between the "Pop Club" and "Club Christy", The only different things are the names.
The Argue between IronInfoncer and Christina8787
A While after her place became popular, Chrstina started to running ads in which she was saying that "Club Chrsty is the Number #1 Social Hangout of All Time".