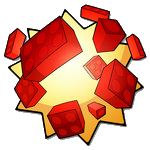 The Bloxxer Badge is a badge officially released on December 22, 2006.[1] awarded to players who reach 250 KOs and have more KOs then Wipeouts.
Description
Edit
Anyone who has earned this badge is a very dangerous player indeed. Those Robloxians who excel at combat can one day hope to achieve this honor, the Bloxxer Badge. It is given to the warrior who has bloxxed at least 250 enemies and who has tasted victory more times than he or she has suffered defeat. Salute!
On January 8, 2007 44 users had the Bloxxer Badge.[2]